It seems like everyone knows about spastic cerebral palsy, but what about ataxic CP?
Ataxic CP is far less common and is caused by damage to a different area of the brain than spastic CP.
This article will explain what ataxic cerebral palsy is, signs to look out for, and how to manage it. Let's start!
What is Ataxic CP?
Ataxic CP is one of the 3 main types of cerebral palsy.
It's caused by damage to the part of the brain called the cerebellum.
The cerebellum is responsible for balance and fine-tuning your movements.
Ataxic CP makes up about 5-10% of all cases of cerebral palsy, making it the rarest type.
Ataxic Cerebral Palsy Symptoms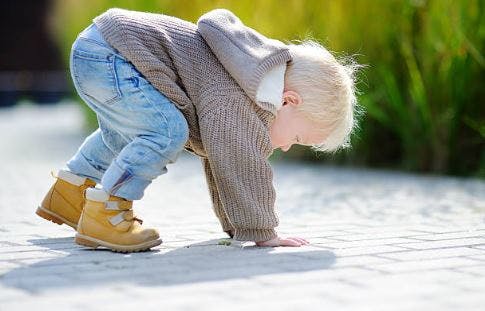 Ataxic cerebral palsy can look different for everyone depending on the location and severity of the brain damage.
It can affect the entire body, including the eyes and mouth.
Some of the most common symptoms of ataxic CP include:
A Wide-Based Gait. Many children with ataxic CP will walk with their legs spaced widely apart, which creates a more stable base. This helps compensate for the lack of balance.
Speech Difficulties. One of the most common speech irregularities in people with ataxic cerebral palsy is scanning speech (when they place unnecessary pauses in between syllables or unusually stress certain syllables)
Shaky Movements. Children with ataxic cerebral palsy will often experience intention tremors, which is when their hands and arms tremble whenever they try to reach for something. These shaking movements make it difficult to perform actions that require fine motor skills like writing, using silverware, and buttoning a shirt.
Falling. Due to poor balance skills, children with ataxic cerebral palsy are prone to falling (especially when walking on uneven pavement).
Trunk Instability. Individuals that experience trunk instability will find it difficult to sit or stand for extended periods and will start trembling.
Hypotonia. Some people with ataxic CP will experience low muscle tone. The arms and legs will appear floppy, and the individual will have low activity tolerance. Because the limbs are so floppy, it becomes difficult to coordinate movements.
Diagnosing Ataxic CP
Generally, ataxic cerebral palsy is easy to overlook in infants.
A wide-based gait, falling, lack of fine motor skills, and speech difficulties are all normal stages of child development.
It isn't until the child gets a little older that these symptoms become worrisome.
Keep an eye out for missed developmental milestones; they'll usually be indicative of cerebral palsy-related motor impairments.
Typically, children will be diagnosed with ataxic cerebral palsy by the time they reach 3 years old.
Ataxic CP Management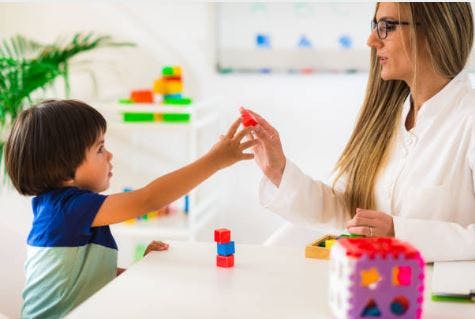 Like all forms of cerebral palsy, ataxic CP has no cure.
However, there are ways to train the brain to improve balance and coordination.
Physical therapy will focus on developing your child's balance skills and fixing abnormal walking patterns through exercise.
Occupational therapy will work on developing fine motor skills by focusing on activities of daily living like grooming and eating.
You'll also learn how to use adaptive tools like universal cuffs and adapted utensils to make daily tasks easier.
Both physical and occupational therapy work by promoting repetition. Our brains are incredibly adaptable and can be trained to acquire new skills. The more you practice, the better your brain gets at recognizing the movements.
Your physical or occupational therapist may recommend that you use a walking aid like a cane, walker, or crutches to provide some extra stability.
A brace can help combat low muscle tone and hold your limbs in place for better control.
Those with speech difficulties will benefit from seeing a speech-language pathologist. At speech therapy, you'll practice speech exercises that will teach you how to pace and articulate your words correctly.
Ataxic CP: Summary
Individuals with ataxic cerebral palsy will struggle with balance and coordination due to cerebellum damage.
They may walk with a wide-based gait, tremble when reaching for objects, fall over often, or even have speech difficulties.
Balance and coordination are extremely important for all forms of movement. Without these 2 skills, every action you make would expend more energy, increase your risk of getting hurt, and be much more difficult to perform.
Ataxic CP is the least prevalent type of cerebral palsy, but it can affect the whole body and be just as debilitating as spastic cerebral palsy.
Although it cannot be reversed, ataxic cerebral palsy can be managed through a combination of various therapies that focus on developing body awareness, strength, and fine motor skills.