Cerebral palsy is a motor disability caused by damage to the developing brain. Depending on the severity of the brain damage, cerebral palsy can result in mild to severe motor impairments.
Severe cerebral palsy often affects the entire body, which can significantly affect a variety of functions including motor control, posture, balance, and coordination. Fortunately, there are ways to effectively manage severe motor impairments and improve your quality of life.
To help you understand what to expect when an individual has severe CP, this article will discuss:
When is Cerebral Palsy Considered Severe?
One way to classify the severity of cerebral palsy is to refer to the Gross Motor Function Classification System (GMFCS). It consists of 5 different levels (1-5) that describe the extent of one's functional abilities. The higher the level, the greater the severity of motor impairments.
Generally, individuals with a GMFCS level of 4 or 5 are considered to have severe cerebral palsy. These individuals are (for the most part) unable to walk, even with the assistance of mobility devices. As a result, individuals with severe CP typically have to rely on the use of a powered wheelchair to achieve self-mobility.
About 30% of individuals with cerebral palsy are wheelchair dependent. Of that population, 12.2% have a GMFCS level of 4 and 14.1% have a GMFCS level of 5. Because individuals with severe CP spend a significant amount of time in a wheelchair, it is essential to make sure they shift positions and move around (with the help of a caregiver) every few hours. This will help prevent the development of pressure sores and other complications associated with limited physical activity.
The following section will discuss how severe CP can affect an individual's quality of life.
Potential Effects of Severe Cerebral Palsy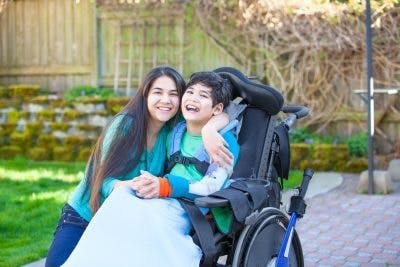 Generally, individuals with severe cerebral palsy experience motor impairments throughout their entire bodies, including the face. This occurs because greater amounts of brain damage typically affect more areas of the body.
Potential outcomes of severe cerebral palsy include:
Additionally, the more severe the cerebral palsy, the greater the chances of developing co-occurring complications such as epilepsy, intelligence impairments, and auditory/visual problems. These complications are not caused by the same source of brain damage that causes CP; however, they often co-occur as a result of extensive amounts of damage to the brain.
Below, we'll discuss each of these potential outcomes in greater detail.
Oral Motor Impairments
Individuals with severe cerebral palsy often experience difficulties controlling the muscles that make up the mouth. These problems can affect an individual's ability to feed themselves and communicate their needs.
Difficulties controlling the oral motor muscles make it challenging to chew and swallow. Feeding problems can consequently lead to malnourishment, which may affect a child's growth and development.
Additionally, oral motor impairments can impair an individual's speech. In fact, individuals with severe CP are more likely to be nonverbal than those with milder forms of CP. Difficulties communicating may cause frustration and lead to behavior problems such as temper tantrums.
Restricted Mobility
Abnormal muscle tone in individuals with cerebral palsy can significantly restrict one's mobility and overall independence. As a result, individuals with severe CP may struggle to perform activities of daily living (toileting, dressing, etc.) on their own and generally need the assistance of a caregiver to help them perform everyday activities.
Increased Risk of Secondary Complications
The majority of individuals with severe cerebral palsy experience high muscle tone (spasticity). If not properly managed, spasticity can progress and lead to additional complications such as the development of pressure sores, chronic pain, sleep problems, musculoskeletal pain, and joint dislocation.
Now that you understand the potential effects of severe CP, let's discuss the best interventions to manage them and promote better mobility.
Management Techniques for Severe Cerebral Palsy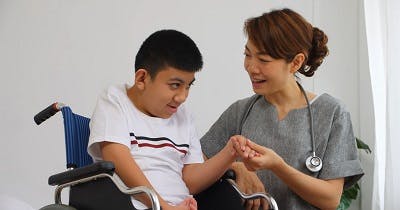 Early intervention can play a significant role in preventing the effects of cerebral palsy from worsening and further restricting one's functional abilities.
Although cerebral palsy is a lifelong disability, individuals can improve their functional abilities by promoting neuroplasticity, the central nervous system's ability to make adaptive changes. The brains of children are more adaptive than those of adults. As a result, it is easier to develop new movement patterns that can replace abnormal ones by participating in management interventions as early as possible.
The most effective way to promote neuroplasticity is through highly repetitive practice of task-specific exercises. Consistent practice helps reinforce demand for the targeted function and encourages the brain to rewire its neural circuitry.
Below, we'll discuss effective management interventions that can help individuals with severe cerebral palsy improve their quality of life.
Physical Therapy
Physical therapy focuses on maximizing an individual's mobility through targeted exercises. This can involve stretching tight muscles, strengthening underused muscles, and moving the joints through their entire range of motion.
Physical therapy may also teach individuals how to use mobility aids to encourage self-mobility and orthotic devices to promote better musculoskeletal alignment.
Occupational Therapy
Working with an occupational therapist can help individuals with severe cerebral palsy learn the most effective ways to maximize their functional independence. This may involve learning how to use adaptive tools to perform activities they otherwise may not be able to and addressing employment and education rights.
Speech Therapy
Just because an individual has severe cerebral palsy does not mean that their intelligence will be affected. Many individuals with severe CP know exactly what they want to say, but struggle to control the muscles in their mouth enough to produce speech.
In such cases, working with a speech-language pathologist can help individuals with severe CP become more effective communicators. This can involve learning how to use augmentative and alternative communication (AAC) or strengthening the oral motor muscles.
Caregivers
Caregivers are able to play an essential role in the management of the effects of severe cerebral palsy and, with proper education, can help minimize the risk of further complications.
Caregivers may also benefit from participating in rehabilitative therapy sessions. This way, they can be educated on how to best assist their clients using hands-on techniques. This education could include recommendations on appropriate positioning and transferring techniques and reviews of home programs for daily stretching, use of adaptive equipment, and AAC practice. They also can become a source of encouragement for their clients to practice the skills learned in therapy at home to promote neuroplasticity.
Surgery
Very severe forms of cerebral palsy may not respond well to non-invasive treatment options. Surgical intervention may help provide the spasticity relief necessary to help make rehabilitative therapies more effective.
Surgical procedures that may be recommended for individuals with severe cerebral palsy include:
Muscle lengthening surgery involves manual lengthening of spastic muscles
Single-event multilevel surgery involves a series of manual lengthening procedures to optimize musculoskeletal alignment and ambulation
Selective dorsal rhizotomy involves making selective incisions at the spinal nerve roots to cut off hyperactive muscle contractions
Another surgery individuals with severe CP may require includes the insertion of a feeding tube called gastrostomy.
Feeding Tubes
Individuals who cannot control their oral motor muscles enough to chew are generally recommended to utilize a feeding tube. A feeding tube directly delivers nutrients to the individual's stomach to bypass the need for chewing and swallowing. It helps make sure that children with severe CP receive adequate nutrients to support healthy growth and development.
Severe Cerebral Palsy: Key Points
Severe cerebral palsy often affects motor control throughout the entire body, which can significantly restrict an individual's mobility. Fortunately, there is hope for individuals with severe motor impairments to improve their functional abilities by promoting neuroplasticity. Even if ambulation is never achieved, individuals can significantly improve their quality of life by learning to optimize their functional abilities and prevent complications from progressing.
featured images: iStock/GaryRadler/jarenwicklund/trumzz