Living with spinal cord injury requires quite of bit of change, but with the help of therapy and adaptive equipment, life after spinal cord injury can be very fulfilling!
What to Expect Living With Spinal Cord Injury
Living with spinal cord injury can require many adjustments, but the goal is to continue to live your life as normally as you can.
At first, this is going to seem incredibly difficult, but after you learn to adjust, you'll find that life after spinal cord injury isn't all that bad.
In fact, you might even find that you've gotten to know yourself and those around you better.
Occupational Therapy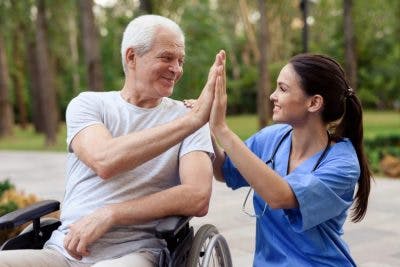 Occupational therapy is the #1 thing that's going to help you adjust to life after spinal cord injury.
It will teach you new ways to perform everyday tasks like:
Eating: using utensils
Grooming: getting dressed, bathing, brushing your teeth, washing your face
Transferring: moving from one spot to another, getting out of bed, getting off your wheelchair
Toiletting: emptying your bladder or bowel
Occupational therapy will help you fine-tune your motor skills to help make life after spinal cord injury as normal as possible.
You may need to learn how to use adaptive tools to help you perform everyday tasks.
Adaptive tools that can help make living with spinal cord injury easier include:
Wheelchairs
Shower benches
Walkers, crutches, canes
Catheters
Adapted utensils
Reachers
Ramps
Braces
Employment After Spinal Cord Injury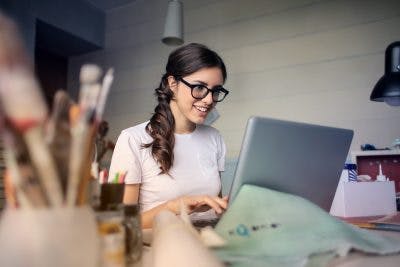 Part of living a normal life is having a job and source of income.
Employment can help keep you busy and provide a sense of purpose if you're struggling to see past your disability.
Before returning back to work, make sure that your body is adjusted. Sometimes, rushing back to work too soon can be overwhelming because you don't fully understand how to take care of your body.
Examples include dealing with a bowel/ bladder accident or not being able to stay balanced and falling over.
The Americans with Disabilities Act (ADA) makes it illegal for employers to discriminate against individuals with disabilities.
Your employer must make reasonable accommodations to help you succeed in your workplace.
If transportation is a problem, consider looking for remote work. Thanks to the help of the internet, communication has never been easier and the remote market is quickly growing.
For some SCI patients, employment is just not feasible. In these cases, the individual will likely be eligible for disability benefits from the Social Security Administration.
Education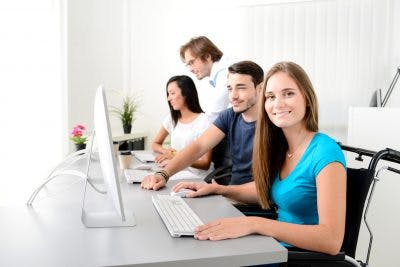 Spinal cord injury should never prevent you from getting an education.
The Individuals with Disabilities Education Act (IDEA) helps accommodate individuals under 22 with their K-12 education.
If you decide to further your education past grade 12, an SCI should not get in your way.
The transition back to school may be difficult, but when you're ready, it can play a significant factor in helping you work towards a career.
Schools often have a disability resource center where you can request accommodations like:
having someone in the class take notes for you
recording lectures
extended time on exams or alternate exam formats
Your school wants you to succeed, so be sure to communicate with your teachers and administration staff to ease the transition back.
If transportation is a problem, look into online classes. Many schools now offer the option to earn your degree online!
Exercise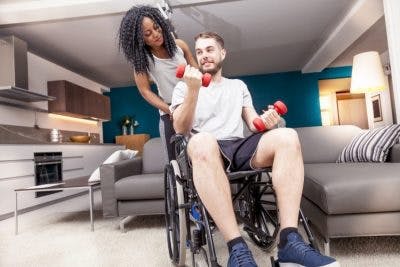 Physical therapy is crucial for recovery from SCI.
Our bodies are designed to be moving around and as active as possible. When we become too sedentary, our bodies start to dysfunction.
Physical therapy helps guide your recovery so that you can build strength, endurance, flexibility, and balance.
High-repetition exercises are necessary for recovering movement. The more you practice, the better your results.
A fun way to get your exercise in is to get involved in sports or participate in some sort of physical challenge.
Many sports are now adapted for those with disabilities not only to promote an active lifestyle, but to help you get to know other SCI patients and socialize.
Check out Disabled Sports USA for a list of adaptive sports to try!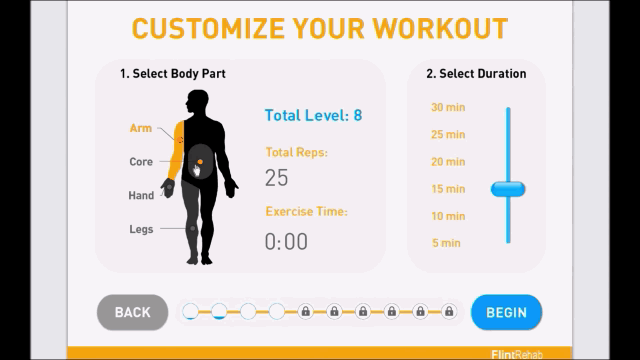 Another good way to get lots of repetitions in is through the FitMi. It's an engaging home therapy program that encourages you to build control and speed over your movements.
It's often much harder to exercise at home than at a gym or rehabilitation center because you have to motivate yourself. FitMi helps you recover faster by tracking your progress and challenging you to unlock new levels as you improve.
Driving After Spinal Cord Injury
Did you know that some people can even drive with spinal cord injury?
Of course, this is dependent on how severe your paralysis is and requires a driving evaluation, but there are car adaptations to help those with spinal cord injury drive.
Car adaptations may include:
wheelchair lifts
electronic steering wheels
electronic gas/brake levers
convertible roofs
hand controls
Driving can help make living with spinal cord injury more enjoyable as it enables a completely different level of independence.
Need to see it to believe it? Check out the video below to see how people with various types of spinal cord injuries can drive!
Social Life and the Importance of a Support System
A lot of spinal cord injury patients may feel like they can't go out and enjoy themselves anymore, but SCI should never stop you from having a social life.
In fact, isolation can often make you feel depressed, which can discourage you from performing even the most basic tasks like sleeping and eating.
We're not saying that you always have to surround yourself with people and force yourself to socialize, but every once in a while, we all need a change of environment.
Socializing will help you build healthier relationships with people and make you feel included in something far greater than yourself.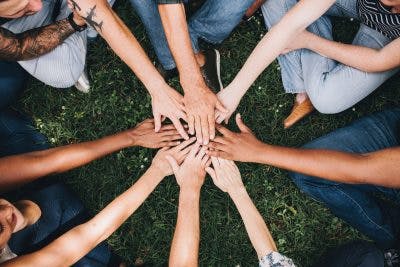 Consider joining a spinal cord injury support group. You can meet lots of people who are going through the same hardships as you and help each other cope by sharing tips and experiences.
Although establishing independence is crucial for SCI recovery, it's just as important to have a strong support system for when times get hard.
Surround yourself with friends and family. They want to help make your transition after SCI as smooth as possible and will make you feel loved and cared for.
A Positive Mindset For Life After Spinal Cord Injury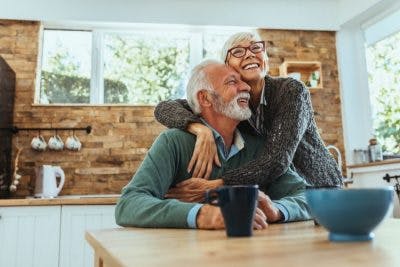 Your mindset can make or break for your SCI recovery.
All your emotions are valid and it's okay to occasionally be upset. However, making negative thinking a habit is a problem and will slow down your recovery.
When you find yourself in a bad mood or mental breakdown because of your SCI, pause and take a minute to focus on your breathing and think positive thoughts.
Think about how far you've come and visualize your recovery. Positive thinking will motivate you to keep working hard towards your recovery.
Living with spinal cord injury is no easy feat and requires lots of hope and hard work.
Don't take an 'all-or-nothing' approach. It will inevitably lead to failure and discourage you because not every day is going to be easy.
Instead, think positively and celebrate every little victory because they'll add up.
You deserve a happy life after spinal cord injury so keep going and everything will be worthwhile. Good luck!