These apps for stroke patients conveniently provide access to therapy straight from your phone or tablet. While it's always best to work directly with a therapist during stroke rehabilitation, daily outpatient therapy is typically not indicated and not covered by insurance.
Therefore, your therapists will encourage you to do your therapy "homework" between therapy sessions, and that's where apps can help. Between outpatient therapy sessions, you can use the following stroke recovery apps to get your daily dose of therapy.
Best Apps for Stroke Patients
Here are the best stroke recovery apps as of 2020. They help with a range of stroke side effects from balance to cognitive function.
1. "ELEVATE" Brain Training App
Helps with: memory and cognitive function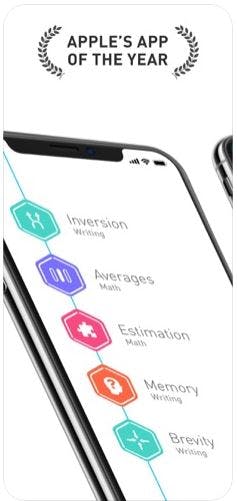 Elevate was designed to help you improve cognitive function through educational games. Elevate users reportedly improved 69% more than non-users across four key skills.
Furthermore, users that train 4 times per week improved 18% more than users who trained 2 times per week. This backs up the principle that repetition and consistency are key to recovery.
Price: free
2. "Clock Yourself" Physiotherapy
Helps with: coordination and balance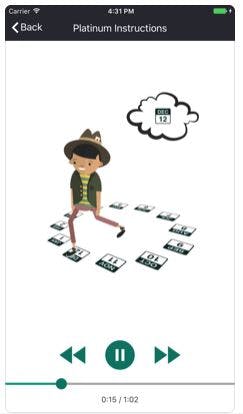 Designed by an Australian physiotherapist, this app helps you "think faster on your feet." The app introduces progressively complex activities to help you react more quickly with your body. This can be especially helpful for stroke patients that lack balance and coordination, and therefore are at a heightened risk of falling. The Clock Yourself app is considered pre-habilitation, but for stroke patients, it can make great re-habilitation.
Price: $1.99
Learn more about Clock Yourself »
3. "Calm" Meditation App
Helps with: sleep, post-stroke depression, and anxiety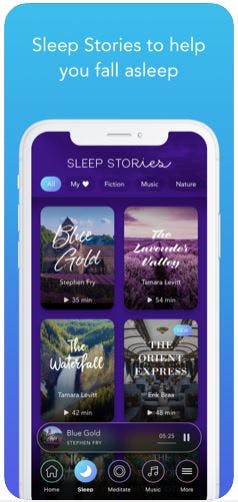 Calm is a meditation and sleep app that's topping the charts as the #1 app in Health & Fitness, on the Apple Store. Meditation apps can help stroke patients that struggle with post-stroke depression, insomnia, or anxiety.
Price: free
4. "Recognize" Rehabilitation App
Helps with: left/right discrimination, explicit motor imagery, mirror therapy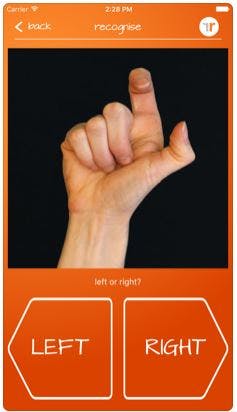 Some therapists recommend the Recognize app for stroke recovery. It tests your "Left/Right Discrimination" which can help stroke patients on a variety of levels.
Price: $9.99 per app (separate apps per muscle group)
5. "Lumosity" Cognitive Training App
Helps with: cognitive function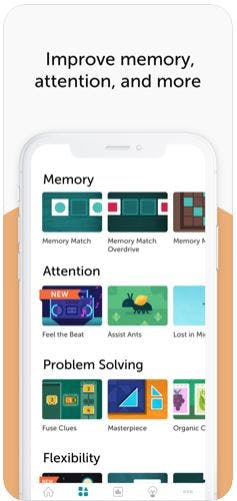 Lumosity is a premium "brain training" app designed for adults of all ages. While it's not intended for stroke recovery, many stroke patients find it helpful.
Price: $11.99/month
6. "What's the Saying?"
Helps with: cognitive function, memory, and recall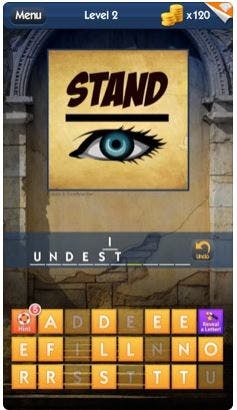 Stroke patients that struggle with cognitive function can benefit from brain-stimulating word games like 'What's the Saying?'
The app takes you through various clever games that help stimulate your critical thinking skills. This one is only available through the Apple App Store.
Price: free
Learn more about What's the Saying? »
7. "What's the Difference?"
Helps with: cognitive function and visual skills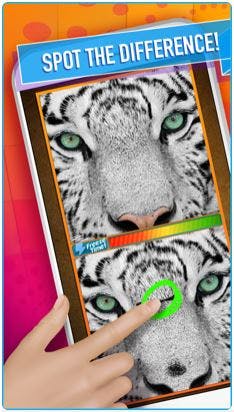 This app can help stroke recovery by improving attention, and even visual scanning. It challenges you to identify small differences between otherwise-identical pictures.
Price: free
Learn more about What's the Difference? »
Best Apps for Speech Therapy After Stroke
If you struggle with speech, language, or cognitive function after stroke, these apps can help:
8. CT Speech and Cognitive Therapy App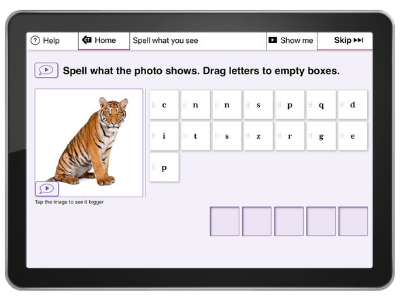 Designed by expert speech-language pathologists, this app can help you improve speech, language, and critical thinking skills. It contains over 100,000+ exercises to help retrain the brain.
Price: $25/month
Learn more about CT Speech Therapy App »
9. Proloquo2Go
This app is great for patients that can't talk after stroke. It works by providing the user with quick access to symbols for "core words."
Surprisingly, studies show that just 200-400 words make up 80% of what we say. Proloquo2go provides quick access to these core words, which provides a much-needed means of communication to stroke patients that can't talk.
Price: $249
Learn more about Proloquo2Go »
10. Tactus Therapy
Tactus Therapy is also designed for stroke survivors with aphasia. It requires multiple apps if you have multiple areas you want to work on (whereas the CT App provides it all in one).
Price: $199 for the 6-app bundle
Learn more about Tactus Therapy »
Best iPad Games for Stroke Patients
Fun is a critical element if you want to stay engaged with your therapy.
Here are the best apps with games for stroke patients as of 2020:
11. Brain Out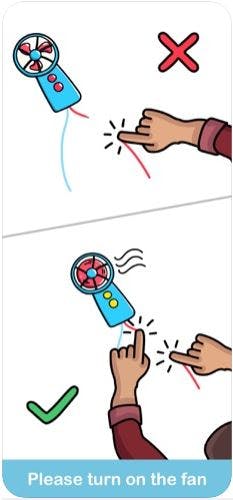 It's an "addictive free tricky puzzle game" that will challenge your mind while providing some fun.
See Brain Out on the App Store »
12. Trivia Crack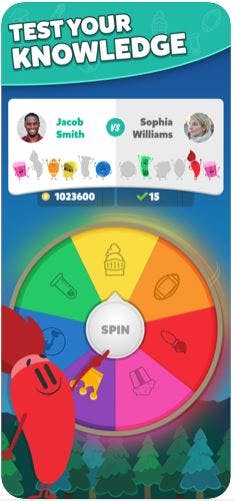 With over 20 game languages, Trivia Crack provides endless fun and challenge with a variety of trivia questions.
See Trivia Crack on the App Store »
13. Wordscapes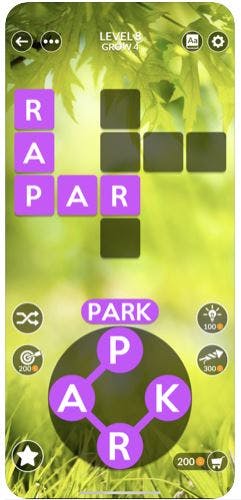 Once everyone got sick of Words with Friends, they moved over to Wordscapes, which offers a variety of fun word games.
See Wordscapes on the App Store »
14. Sort It 3D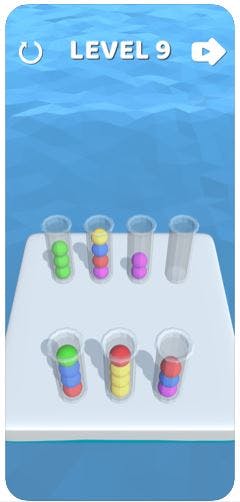 This app involves sorting colored balls in the tubes. Simple, yet addicting. It's #1 for a reason.
See Sort It 3D in the App Store »
15. "2048 Balls 3D"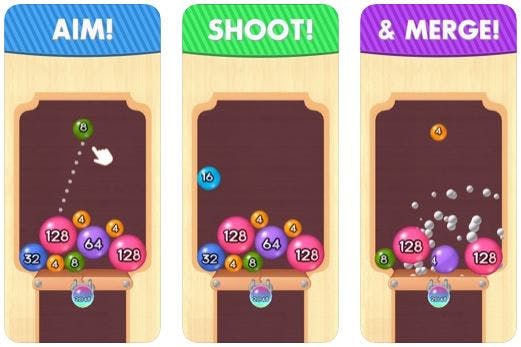 Stroke patients can exercise their math skills with this addicting strategy game. Drop the balls and merge their numbers. See if you can get to 2048!
See 2048 Balls 3D on the App Store »
Which Stroke Recovery Apps Will You Choose?
After a stroke, daily therapy will help you see the best results possible. While some forms of therapy can be boring, you can help make it feel less like homework by adding some fun to the mix.
For a better experience than an app, you can try gamified rehab devices like Flint Rehab's MusicGlove hand therapy and FitMi full body therapy. They add the element of gaming and fun to your rehab exercises.
We hope you enjoyed this list of the best stroke recovery apps for 2020.
All images sourced from: Apple App Store