A bilateral stroke occurs when there's a stroke on both sides of the brain.
Unlike single strokes, the symptoms and side effects are more severe for bilateral stroke.
When stroke occurs on both sides of the brain, the damage is more widespread and the impact is more severe.
To help you recover from bilateral stroke, this article will explain the cause and symptoms of a stroke on both sides of the brain.
Then we will dig into the best stroke recovery treatment options. Let's get started.
Cause of Stroke on Both Sides of the Brain
The leading causes of stroke are hypertension, high blood cholesterol, diabetes, central obesity, and smoking. These conditions impact the health of your arteries.
When a stroke occurs, the supply of blood in the brain becomes blocked by either a clogged artery (ischemic stroke) or burst artery (hemorrhagic stroke).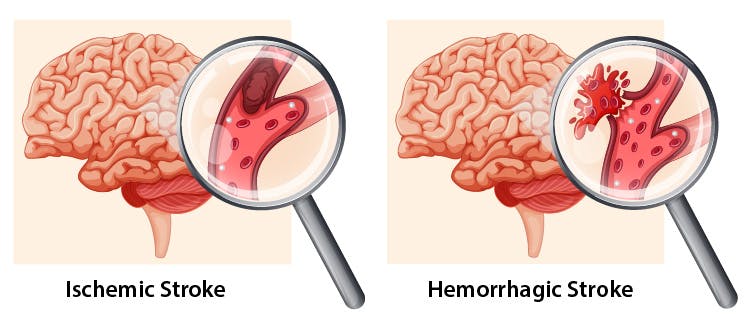 Most often, stroke occurs in one side of the brain and results in physical impairments on the opposite side of the body.
When both sides of the body are affected, however, then it's usually caused by multiple strokes on both sides of the brain — a bilateral stroke.
Unfortunately, diagnosis is often difficult because the typical stroke symptoms may display differently.
For example, instead of weakness on one side of the body – a hallmark and well-known symptom of stroke – both sides of the body may be affected, making the condition less obvious.
With bilateral stroke being more severe, timely treatment is necessary to preserve as much brain tissue as possible. With diagnosis being difficult, this often creates a situation where bilateral stroke leads to severe stroke side effects.
Treatment for Bilateral Stroke
Treatment for bilateral stroke occurs in two phases: stopping the strokes, and rehabilitating the side effects.
When ischemic stroke is involved (the kind caused by a blood clot), doctors can often resolve it with clot-busting drugs like aspirin or tPA.
Aspirin should not be used to treat hemorrhagic stroke!
When hemorrhagic stroke is involved, an artery in the brain has burst, and the addition of blood thinning drugs like aspirin will make a bad situation worse!
Instead, doctors often treat hemorrhagic stroke with surgery to stop the bleeding and relieve potential intracranial pressure.
Rehabilitation for Stroke on Both Sides of the Brain
With bilateral stroke, the side effects are often more severe because the impact is bigger. This means that rehabilitation will be more intense and take longer.
However, with hard work and effective stroke exercise equipment, patients can make a robust recovery.
Here are some of the methods that might be used:
Physical therapy for both sides of the body. After bilateral stroke, mobility on both sides of the body often becomes impaired. Rigorous physical therapy and stroke rehabilitation exercise can help improve this side effect.
Passive exercise for paralysis recovery. If the impact of bilateral stroke was severe, patients may experience post-stroke paralysis. In this case, passive exercise (or passive range of motion exercise) can help restore movement or, at the very least, prevent bedsores and worsening spasticity.
Speech therapy for language impairments. If the language center of the brain was affected, then bilateral stroke patients may experience speech impairments like aphasia. Speech therapy can help improve this condition.
These are the most common rehabilitation methods used for recovery from bilateral stroke.
However, it's not a complete list. Instead, you can refer to our complete list of stroke side effects and complete list of stroke recovery treatment options.
Hope for Recovery from Bilateral Stroke
Because diagnosis for bilateral stroke is often tricky, treatment can be delayed, which leads to more severe stroke side effects.
Fortunately, there is hope for recovery. By participating in rigorous therapy, you can rehabilitation both sides of the body and help restore other side effects that may have occurred.
Work closely with your doctor, neurologist, and therapists to come up with a treatment plan that's suited to your unique recovery from bilateral stroke. Best of luck on the road to recovery.