During stroke recovery, the 2 year mark is slightly controversial. On one hand, this is the point that experts formerly thought that patients would stop improving. In recent years, however, we have discovered that recovery is far from over after 2 years.
You're about to learn what milestones often occur 2 years after stroke. These are generalizations since every stroke is different, but they provide important insight for the recovery process.
Then, we will discuss the urgent need to improve long-term rehabilitation for stroke patients, if they want to reach their highest recovery possible. Let's get started.
What to Expect from Stroke Recovery After 2 Years
Every stroke is different, so every patient will recover at a different rate. Therefore, stroke recovery after 2 years will look different for everyone.
It can be helpful to look at the size of the stroke to get a general idea of the outlook. If you don't know how your stroke is classified, check out the NIH Stroke Scale. It provides a numerical score based on certain stroke side effects.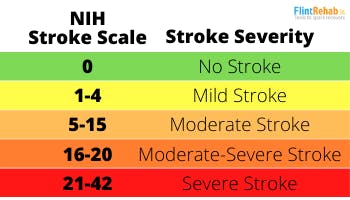 Patients that score only a few points on the NIH Stroke Scale have sustained mild strokes. These individuals may reach a full recovery after three to six months of rigorous therapy. Recovery is unlikely to take 2 years.
But what kind of milestones can other patients expect around the 2 year mark?
Moderate stroke patients (those scoring between 5-15) might regain gross motor skills, like arm and leg movement, at the 2 year mark. Difficulty with fine motor skills, like finger movement, may persist.
Severe stroke survivors (those scoring 16 and higher) may also reach milestones by the 2 year mark. For example, those with post-stroke paralysis (hemiplegia) may see some movement returning to their limbs at the 2 year mark, if they participate in consistent therapy.
Again, these are generalizations as the stroke recovery process looks different for everyone.
Stroke Recovery Milestones Achieved by the 2 Year Mark
Although it's impossible to tell what will happen at each stage of stroke recovery, there are more milestones worth highlighting.
By the 2 year mark, one study found that 74% of patients could walk without assistance if they participated in consistent therapy during those two years.
Furthermore, up to 79% of patients had a Barthel Index score above 70, which implies independence. With a score of 70, a stroke patient requires minimal dependence with the activities of daily living.
These impressive and hopeful gains are the result of consistent therapy over the first two years. Consistent therapy is key to recovery.
But what happens if a stroke patient is not participating in consistent therapy? Does this mean it's the end of the road? Not necessarily. There are still plenty of ways to pick things back up and start recovering again.
To understand how to maximize your chances of a full recovery even after the 2 year mark, let's go back to the beginning for some important insight.
Why Stroke Recovery Occurs Rapidly in the Early Stages
To understand what happens at the 2 year mark after stroke, it actually helps to first look at the 3 month mark.
The most intensive therapy happens during the first few months of inpatient therapy. The gains during this time are often massive.
This sharp jump in progress occurs for two reasons: 1) the brain is in a heightened state of plasticity where spontaneous recovery happens quicker and 2) inpatient therapy is often rigorous, requiring 3+ hours of work per day.
With such an intense workload, it's no surprise that patients recover rapidly during inpatient rehab.
Unfortunately, stroke recovery often slows down (or "plateaus") at the 3 month mark. At this point, therapists often discharge patients from inpatient therapy and move them to outpatient therapy.
Outpatient therapy is less rigorous, which implies that patients need more sessions to produce the same amount of results. Unfortunately, when insurance only covers a limited number of sessions, this leaves much to be desired.
Why Patients Should Continue Therapy 2 Years Post-Stroke
The good news is that while recovery does indeed slow down after the first few months, recovery can continue for years as long as patients continue with regular, consistent therapy.
This doesn't just mean outpatient therapy, either. While many outpatient therapy clinics provide outstanding service, patients are often left hanging in between visits. Each day during stroke recovery is precious, and should be used to continue recovery efforts at home.
After patients graduate from outpatient therapy, many are sent home with a mere sheet of exercises to complete at home. This is not enough to produce meaningful results and get patients as close to a full recovery as possible.
In our article on stroke recovery after 5 years, we highlighted how the severe lack of quality therapy after discharge from inpatient therapy has impeded recovery for many stroke patients.
This is where home therapy equipment, like Flint Rehab's FitMi home therapy, can help fill in the gap. The device encourages patients to exercise daily at home, helping them see faster results than a single outpatient therapy visit per week.
Life After Stroke at the 2 Year Mark
Two years after stroke, some patients feel like things are as good as they are ever going to get. But many are surprised at how much they can improve when they start doing daily rehab exercises at home.
If you have participated in consistent therapy up to the 2 year mark, you are likely to achieve significant milestones. And even if you neglected therapy over the years, you can pick things back up and continue recovery.
Whether it has been 2 years since your stroke or more, there is always hope for recovery when you put in the work.