What should you expect from stroke recovery after 5 years? You've probably heard that every stroke is different, and as a result, everyone will recover at different rates.
Even though the stroke recovery timeline can be ambiguous, there are some patterns worth noting. Hopefully they can help paint a rough picture of what your stroke recovery process may look like.
While some patients might fully recovery by 5 years, others may take longer. Let's explore what your stroke recovery journey might look like at the 5 year mark.
What to Expect 5 Years After Stroke
During the stroke recovery process, patients usually participate in regular therapy to recover. Consistent physical therapy, speech therapy, and occupational therapy help patients get as close to a full recovery as possible.
If patients are diligent with therapy, recovery often happens more quickly. That's because the exercises done during therapy are repetitious and help stimulate neuroplasticity: the brain's ability to rewire itself.
Patients that participate in daily therapy, or consistent therapy throughout the week, often achieve major milestones by the 5 year mark.
Patients that suffered mild or moderate strokes often achieve a full recovery by this point. Those that sustained massive strokes are often still making progress.
Massive stroke survivors often must work longer. By the 5 year mark, gross motor skills may have returned, meaning that arm and leg function may improve. However, they may still have a long way to go for fine motor skills, which includes hand and foot function.
In terms of stroke side effects, by the 5 year mark, many survivors may be able to walk again, with or without assistance. But issues like foot drop and poor hand function may linger for massive stroke survivors.
Still, even two stroke survivors who both suffered massive strokes will have very different recoveries.
Why Some Patients "Fail to Launch" 5 Years Post-Stroke
Overall, the outlook 5 years post stroke is optimistic for patients that can (and are) participating in daily therapy (whether this is in a clinic or doing their therapy "homework" at home). Unfortunately, the opposite is true if therapy is neglected.
When stroke patients fail to exercise or participate in therapy, their deficits may worsen or their recovery may simply plateau. The concept of learned non-use illustrates this. Neglect of the affected limbs can eventually lead to total loss of control of that limb.
This concept was validated in one study that focused on stroke patients 5 years post stroke. Researchers found that "the level of functional and motor performance at 5 years post stroke was equivalent to the level measured at 2 months."
This means that patients did not make any gains after the 2 month mark.
Researchers credit the initial gains during the first 2 months of recovery to the intensity of inpatient rehabilitation. They state that rehabilitation after the 2 month mark deserves deeper consideration.
How to Keep Recovery Going After 5 Years
At Flint Rehab, we agree that rehabilitation needs a boost after discharge from inpatient rehabilitation. Although patients often go to outpatient therapy thereafter, it still leaves much to be desired.
While some outpatient clinics are particularly outstanding, the issue occurs when insurance fails to cover more than one or two sessions a week — or sometimes not at all. With the high cost of stroke recovery, this leaves many patients without adequate access to therapy.
Therefore, if patients want to continue to improve after discharge from inpatient and outpatient therapy, they need a strong at-home therapy regimen.
Fortunately, high-tech rehabilitation devices like Flint Rehab's FitMi home therapy make this possible. Patients recovering 5 years post-stroke see great improvement with FitMi because it encourages high repetition of therapeutic exercises.
In fact, one patient said this in a FitMi review: "Got so many reps in, think it was more in a month than the last 5 years. Great product."
This backs up the researchers' theory that a failure to improve 5 years post-stroke could have something to do with the poor quality of therapy available after discharge.
Story: Margaret's Recovery 5 Years Post-Stroke
Before we wrap things up, it can be helpful to hear from other stroke survivors that are past the 5 year mark.
Here's a story from a stroke survivor named Margaret who has had more than 5 years elapse since her stroke. This was part of her review for FitMi home therapy, which she used for rehab at home.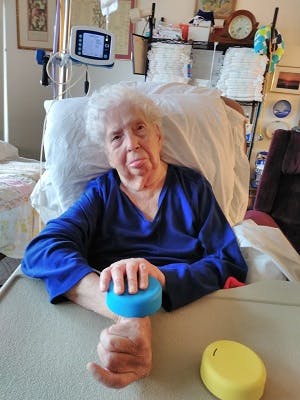 "In 2010, I had a stroke. Since then, my right arm and both of my hands have become increasingly more contracted. I have not been able to open and close my hands. My hands have been clenched and very tight. My arm has been contracted up toward my chest.
In June 2017, I received the FitMi. My caregivers have helped me use the FitMi with my hands. Although I have been unable to use the FitMi every day, I have regularly used it either 2 or 3 days a week.
After years of having clenched hands, my hands are starting to relax. I am able to open and close my hands much more easily.
My arm is relaxing and is not as contracted. I am regaining flexibility of my fingers. I am able to hold the FitMi pucks instead of the caregivers having to hold my hand over the FitMi and moving my hand.
I feel I have made progress in regaining the use of my hands and right arm. My caregivers and Occupational Therapist agree.
I am encouraged and will continue to use the FitMi, and I feel confident I will continue to make progress in regaining my flexibility and use of my hands and right arm. I am very grateful."
As you can see, regular therapy is important during stroke recovery, especially after the 5 year mark. As long as you put in the work, you should see results.
Overall, Margaret's story proves 3 very encouraging points:
We hope Margaret's story inspires you to start exercising daily, even if it has been 5 years since your stroke. Best of luck on the road to recovery!