What should you expect from stroke recovery after 5 years?
Today we'll explore this frequently asked question.
What to Expect 5 Years After Stroke
It's important to understand that every stroke is different and therefore every recovery will be different.
Someone who had a mild left side stroke will have a very different recovery process than someone who had a massive right side stroke.
That said, even two stroke survivors who both suffered massive right side stroke will have very different recoveries.
This makes it hard to predict what your recovery will be like.
Stroke Recovery Patterns We've Noticed
However, there's still an overarching pattern when it comes to how long stroke recovery takes:
Those recovering from minor stroke will usually recover faster. At the 5 year mark, they might even achieve a full recovery from stroke and resume work, get back to hobbies, etc.
For those recovering from massive stroke, the process usually takes longer. At the 5 year mark, big milestones are usually achieved and a full recovery might be within sight.
Generally speaking, the more significant the stroke was, the longer the stroke recovery process will be.
Have You Hit Any Recovery Milestones?
Stroke recovery is often full of milestones.
Some are small, like lifting your foot up a little higher than yesterday. Others are huge, like walking for the first time ever after stroke.
How many milestones have you hit? And how many do you have to go?
If it's been 5 years since your stroke, you may have hit some big milestones already.
Has Your Progress Gone Backwards?
But not all progress goes in a straight line. In fact, progress is usually full of ups and downs.
This is what stroke recovery actually looks like: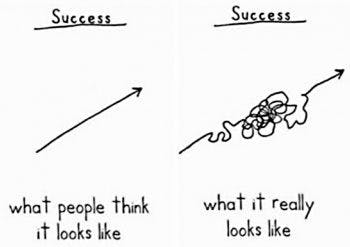 Drawing by Demitri Martin
Small backslides and regression after stroke are perfectly normal.
As long as you stick with your rehabilitation program, things will correct themselves on their own, and your progress will begin to move forward again.
But if you don't get back on your rehabilitation program, you might risk a serious regression where your stroke side effects start to get worse.
How to Recover 5 Years After Stroke
So let's say that your recovery has gone backwards; or that you're not as far along as you'd like.
What should you do?
Well first, you never give up! Ever.
Second, you find yourself a good rehabilitation program that helps you achieve high repetition of the skill you want to rebuild.
For example, if you want to regain movement, an exercise program like FitMi is great to try because it encourages lots of repetition.
Repetition Is the King of Skill
Repetition is important during stroke recovery because that's how you rewire the brain.
Skills are built through repetition.
Each time you practice something, new connections in your brain get a little stronger. The stronger these connections become, the stronger you become.
FitMi's intense repetition is how stroke survivor Margaret began to reverse the worsening spasticity in her arm over 5 years after her stroke!
How Margaret Began Recovering Over 5 Years After Stroke
Here's what Margaret said in her FitMi review: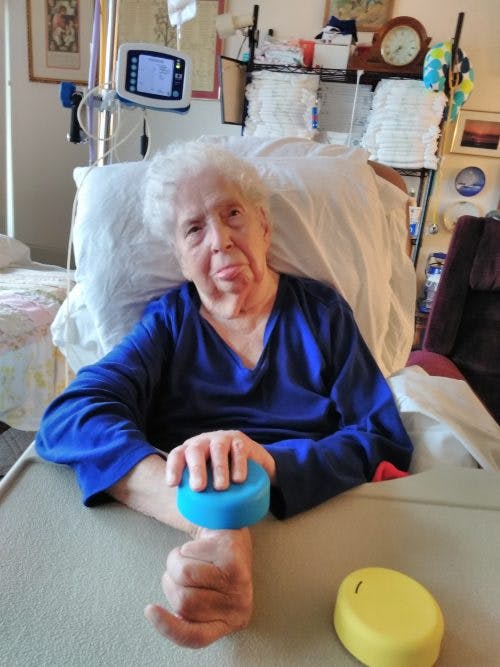 "In 2010, I had a stroke. Since then, my right arm and both of my hands have become increasingly more contracted. I have not been able to open and close my hands. My hands have been clenched and very tight. My arm has been contracted up toward my chest.
In June 2017, I received the FitMi. My caregivers have helped me use the FitMi with my hands. Although I have been unable to use the FitMi every day, I have regularly used it either 2 or 3 days a week.
After years of having clenched hands, my hands are starting to relax. I am able to open and close my hands much more easily.
My arm is relaxing and is not as contracted. I am regaining flexibility of my fingers. I am able to hold the FitMi pucks instead of the caregivers having to hold my hand over the FitMi and moving my hand.
I feel I have made progress in regaining the use of my hands and right arm. My caregivers and Occupational Therapist agree.
I am encouraged and will continue to use the FitMi, and I feel confident I will continue to make progress in regaining my flexibility and use of my hands and right arm. I am very grateful."
Margaret's story proves 3 very encouraging points:
Recovery is possible any age and any stage as long as you put in the work.
It's 100% possible to reverse any backsliding you have had on your road to recovery through steady practice.
Intense repetition makes a huge different in your rehabilitation program results.
We hope Margaret's success inspires you to start your repetitive practice as soon as possible!
Your Brain Will Never Give Up, So Neither Should You
Your brain is rewiring itself throughout your entire life. It never stops.
Knowing this, we don't think you should ever stop trying to recover either! Unless you achieve a full recovery, that is.
Your brain is capable of working miracles. It just needs your help by putting in the practice.
5 Years After Stroke
So, whether it's been 5 years since stroke or 15, there's always hope for you to keep recovering.
Continue with your rehabilitation, or switch over to a different program that encourages even more repetition than before.
Repetition is how results are made.