The stroke recovery process looks different for everyone because every stroke is different. While the after math of stroke can be devastating for some, rehabilitation can help you regain your independence.
Below, you'll learn where the stroke recovery process may take you, along with tips to help you recover.
Step 1: Stroke Rehabilitation Starts Immediately
Quick tip: Stroke rehabilitation begins on day 1.
It's important to start stroke rehabilitation as soon as possible, and many specialists will start working with patients on day 1. Usually this means working from the hospital bed until you can be transferred to a rehab facility (more on that later).
Fast action is ideal because, immediately after stroke, the brain is in a heightened state of plasticity where it's rapidly trying to heal itself. All rehabilitation done during this time will have a greater, positive impact on recovery.
Step 2: The Severity of the Stroke Is Assessed
Quick tip: The area of the brain affected by stroke will have an impact on the side effects sustained.
Knowledge is power during stroke recovery. Knowing which part of the brain was affected by stroke can provide understanding for the side effects sustained. For example, a stroke in the temporal lobe, which governs certain language skills, may result in language impairments like aphasia.
The size of the stroke will also have an impact on the severity of the side effects. Generally, a mild stroke results in mild side effects, like weakness in half the body, while a massive stroke can have devastating side effects, like post-stroke paralysis.
Talk to your neurologist about the size and location of your stroke, as this information greatly impacts the stroke recovery process.
Step 3: Rehabilitation Facilities Are Recommended
Quick tip: Follow this infographic to see which rehabilitation facilities may benefit you during the stroke recovery process: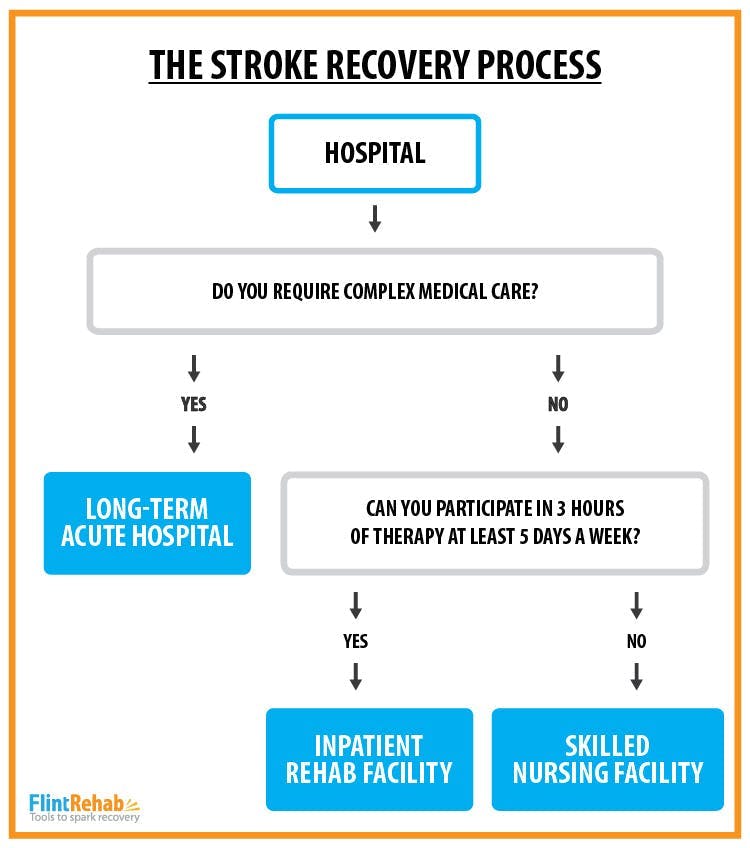 After your initial stay in the hospital, your medical team will recommend where to go next:
Long-term acute care hospital: for patients that require complex medical care, like ventilator use. Patients stay an average of 25+ days at a long-term acute care hospital.
Inpatient rehab facility: for patients that do not require complex medical care and can participate in intensive therapy. At an IRF, patients will participate in therapy for at least 3 hours a day up to six days a week.
Skilled nursing facility: for patients that do not require complex medical care but cannot participate in intensive therapy. Patients will receive rehabilitation services just like an IRF, but at a smaller scale (1 hour twice a week, for example).
Step 4: Stroke Therapy Continues
Quick tip: There are a variety of therapies available at every rehab facility.
In the early stages of the stroke recovery process, your rehab facility will have a large team of medical providers assisting your recovery. Here are common types of therapy that stroke patients may require during the recovery process:
Physical Therapy: To regain motor function after stroke, patients will work with a physical therapist to practice stroke exercises. Repetition of physical therapy exercises helps rewire the brain and reteach the body how to move properly again.
Speech Therapy: To regain speech or swallowing abilities, patients will work with a Speech-Language Pathologist to practice speech therapy exercises. Repetition of speech therapy exercises helps rewire the brain.
Occupational Therapy: To improve independence, patients will work with an occupational therapist to practice functional exercises that translate to daily life, like eating and dressing.
Step 5: Overcoming the Stroke Recovery Plateau
Quick tip: The stroke recovery plateau should not be a stopping point.
The brain enters a heightened state of plasticity immediately after injury, which means that it's healing the fastest during this time. This state usually lasts for 3 months, and when it's over, many patients begin to plateau – informally known as the stroke recovery plateau.
Although recovery slows down after the first 3 months, it's certainly not over. As long as stroke patients participate in regular rehabilitation, the brain can continue to heal and side effects can continue to improve.
See our stroke recovery timeline for more information on what the road to recovery may look like.
Step 6: Continuing Recovery at Home
Quick tip: Participate in rehab at home in between outpatient therapy sessions.
After stroke patients reach the 3-month plateau, many are discharged from inpatient rehab. After discharge, they're sent home to continue recovery. Once you're home, you may continue with outpatient therapy where you travel to therapy usually 1-2 times a week.
Between outpatient therapy sessions, it's important to keep up with rehab at home. This is where home therapy tools for stroke patients can be helpful. Try to develop a routine so that you get into the habit of rehabilitation at home.
What to Expect from the Stroke Recovery Process
Every stroke is different so every recovery will be different. Patients recovering from massive stroke may go to a long-term acute care hospital while others may go straight to inpatient or outpatient rehab. Therapy should be tailored to your side effects, which vary based on the size and location of your stroke.
The brain is working hard to heal itself after sustaining an injury like stroke. Continue with your therapy and don't compare your stroke recovery process to others'. And most importantly, never give up.