When the brain sustains damage to areas that contribute to muscle function, weakness or paralysis can occur. Fortunately, it is usually possible to treat these conditions to recover at least some degree of muscle use after brain injury.
To help you take charge of your recovery, we have listed the best treatments for brain injury paralysis below. Consult with your therapist and experiment with the methods that resonate with you.
Before we discuss treatments, it will help to understand the causes behind brain injury paralysis.
Causes of Brain Injury Paralysis
Unlike paralysis due to spinal cord injury, which results from severing the spinal cord, brain injury paralysis is caused by poor communication between your brain and muscles. It occurs due to damage to the parts of the brain in charge of muscle control.
Because brain injuries typically only affect one side of the brain, paralysis tends to likewise occur on only one side of the body. For example, if the left side of the brain sustains an injury, the right side of the body may become paralyzed. This condition is known as hemiplegia.
Hemiplegia occurs because each side of the brain controls movement on the opposite side of the body. Certain parts of the brain send a complex array of signals to the muscles in the body, enabling you to move them on command.
However, when a TBI damages these areas of the brain, those signals can become interrupted. As a result, the muscles are not able to respond to the brain's directions, and paralysis can set in.
This lack of communication may cause other effects too. Some common symptoms that often accompany brain injury paralysis include:
Fortunately, if you can restore communication between your brain and muscles, then you can begin to regain control of your movement. To do this, you must activate your brain's neuroplasticity.
The Role of Neuroplasticity in Brain Injury Paralysis Recovery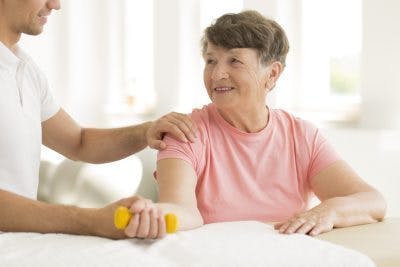 Neuroplasticity refers to the mechanism your brain uses to reorganize nerve cells and form new neural pathways. These new neural pathways then allow healthy, undamaged portions of the brain to take over control from damaged areas.
Therefore, by engaging neuroplasticity, you can create neural pathways between your brain and muscles. This, in turn, will restore the communication to your muscles and should reduce paralysis and weakness after brain injury.
To activate neuroplasticity, you must engage in consistent, therapeutic exercise. The more you practice an activity, such as moving your arm, the more it reinforces new neural pathways. And the more you strengthen those pathways, the stronger the connection between your brain and muscles will become.
However, this poses a dilemma for brain injury patients with paralysis. To recover their movement, patients must engage neuroplasticity, but to engage neuroplasticity, patients must move their muscles. Fortunately, there are other ways to activate neuroplasticity that do not require active movement.
How to Recover from Brain Injury Paralysis
You can increase your chances of recovering from brain injury paralysis by following these effective treatment methods.
The following treatments can help activate neuroplasticity and encourage muscle movement to return after brain injury.
1. Passive Range-of-Motion Exercises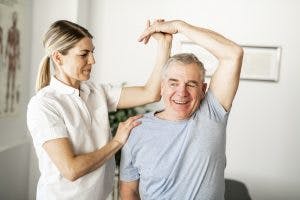 Passive range-of-motion exercises are an effective way to activate neuroplasticity. With this technique, therapists move your affected arms and legs for you. As simple as this sounds, it will significantly aid your brain injury paralysis recovery.
In fact, recent research shows that passive movement activates the same parts of the brain that active movement does, and even triggers neuroplasticity. This reestablishes communication with your mind and muscles, which can reduce paralysis and increase muscle function. Eventually, you might recover enough strength to move on your own again.
In addition, passive range of motion exercises also keep your muscles flexible and prevent contractures from developing. This makes it critical for preventing further loss of function.
2. Mental Practice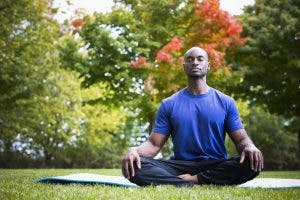 The advantage of mental practice is that it's accessible for paralyzed individuals.
Mental practice involves visualizing yourself performing a movement that you want to perform. The practice requires no actual movement.
Although you aren't doing the movements in reality, the mental practice still helps activate neuroplasticity and rewire the brain. Then, when you couple mental practice with physical therapy (i.e. paralysis exercises), you can see incredible benefits.
In fact, studies show that combining mental practice with physical practice or passive range-of-motion exercise helps improve mobility in TBI patients.
3. Electrical Stimulation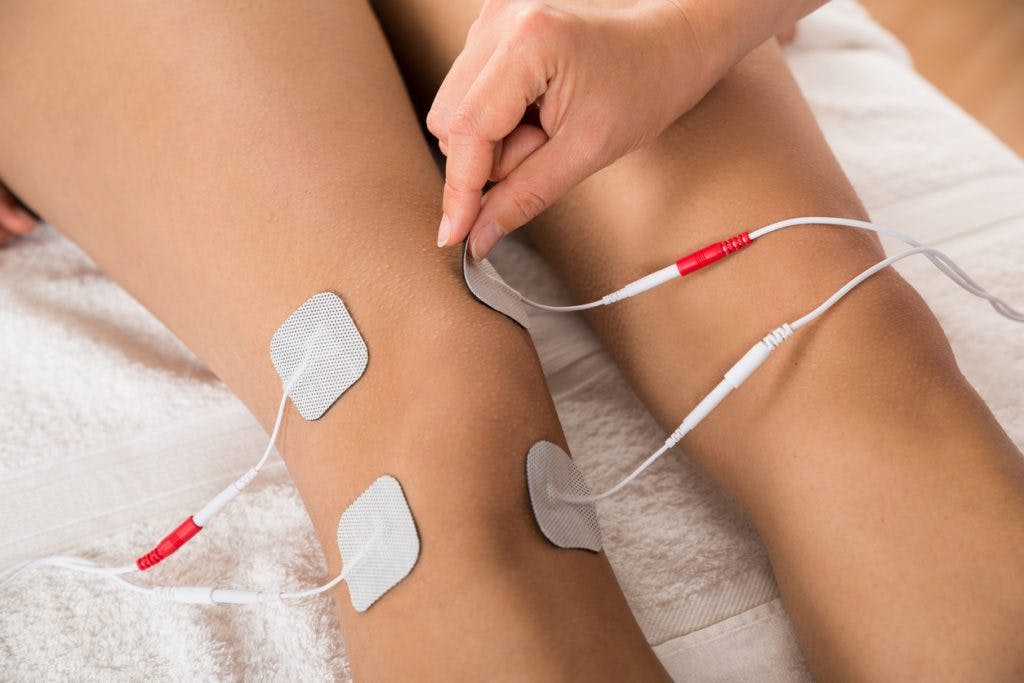 Electrical stimulation is another way to encourage your brain to rewire itself and improve muscle movement.
It works by sending an electrical impulse directly to your affected muscles, causing them to contract. This stimulates the brain and activates neuroplasticity.
Combine electrical stimulation with passive exercise to get the best results. In addition, attempting to activate your muscles when you feel the electric pulse can increase the benefits.
While you can do e-stim from the comfort of your own home once you've been trained on it, we recommend trying it under your therapist's supervision first. They can show you the best places to put the electrodes and how to safely operate the machine.
4. Mirror Box Therapy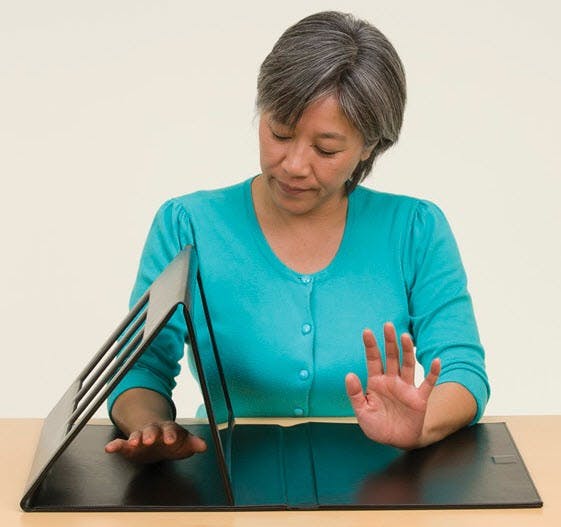 This therapy may help you recover from hand paralysis after brain injury.
To practice mirror therapy, place a mirror over your affected hand and then perform some hand therapy exercises with your non-paralyzed hand. This activates mirror neurons in the premotor cortex, the part of the brain that controls movement.
Essentially, mirror therapy tricks the brain into thinking it is moving your paralyzed hand, which activates neuroplasticity. Surprisingly, after consistent practice, you may notice your affected hand starting to twitch or move in response. If this does not happen at first, it may come with time.
This therapy is only effective if you have one strong side, however. If paralysis affects both sides of your body, the other treatments we suggested will be more appropriate.
Learn more about mirror box therapy for hand recovery »
5. Active Exercise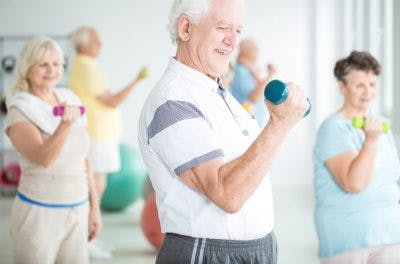 The more you use the therapies suggested in this article, the stronger the connection between your brain and muscles will become. Eventually, you should regain minimal movement in your affected limb. Once you can move a bit, you must engage in repetitive, active exercises to continue strengthening those neural pathways.
As you practice these repetitions, you will trigger substantial changes in your brain, which can help you regain further function. Therefore, if you want to recover from brain injury paralysis faster, focus on high repetition.
One of the best ways to get results is to try Flint Rehab's FitMi home therapy device. It's designed to help you accomplish the high repetition necessary to see results. In fact, FitMi helped a stroke survivor with arm paralysis experience twitches in his affected arm for the first time after three weeks of daily FitMi use.
Brain Injury Paralysis Recovery: Conclusion
The five techniques listed in this article are some of the most evidence-based treatments used in brain injury paralysis recovery. However, it is important to remember that every brain injury is unique. Therefore, what works for one person may not work for another.
We can't guarantee you'll see results as quickly as others have, but we can guarantee that you won't make any progress if you never try. Therefore, continue stimulating your brain with passive and active exercises as much as possible. Sooner or later, your hard work will pay off.
And above all, never lose hope. No matter what anyone tells you, it is always possible to stimulate the brain and encourage improvements.