A C2 spinal cord injury is a serious condition that requires immediate medical attention.
The spinal cord is a delicate bundle of nerves that transmits messages between the body and brain. Damage at the C2 level can significantly affect motor control and sensation throughout the entire body.
To help you understand what to expect after a C2 spinal cord injury, this article will go over what functions can be affected and various rehabilitative interventions that can promote recovery.
Functions Affected by a C2 Spinal Cord Injury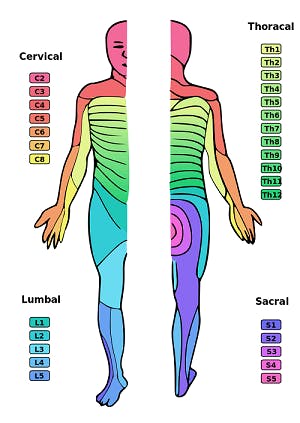 The C1 (the atlas) and C2 (the axis) vertebrae make up the top of the spinal column and are essential for supporting the skull, neck mobility, and protecting the spinal cord.
Where the skull and C1 vertebra meet, forms the joint that allows you to nod your head up and down. Where the C1 and C2 vertebrae meet, forms the joint that allows you to move your head left to right.
The nerves at each segment of the spinal cord connect to, or innervate, a specific area of skin for sensation and set of muscles for movement. The C2 nerves affect sensation at the top and back of the scalp, ear lobes, and front of the neck. They also affect the muscles used for neck flexion (nodding).
Because signals from the brain cannot get past the spinal lesion, all functions innervated below the level of injury can be interrupted. Functional outcomes will vary depending on the severity of the injury.
Some of the major functions that can be affected by a C2 SCI include:
Breathing and Speaking
Individuals with C2 spinal cord injuries may experience impaired diaphragm functions, which affects their ability to breathe independently. As a result, C2 SCIs are often fatal and require immediate medical attention. Many need the assistance of a ventilator to breathe and may consequently struggle to speak.
Sensation Below the Neck
Individuals C2 spinal cord injuries can experience impaired sensation from the neck down.
Sensory stimuli travel from the body, up the spinal cord, to the brain. Then, the brain processes that information and reacts. For example, when you touch something hot, sensory stimuli travel to the brain and the brain sends a signal to move your hand.
After a C2 SCI, those sensory stimuli may not be able to reach the brain, resulting in loss of sensation throughout the entire body. This can be extremely dangerous and requires you and your caregiver to be more mindful of your surroundings.
Paralysis from the Neck Down
A C2 spinal cord injury may result in quadriplegia (paralysis of the upper and lower limbs).
Patients with severe C2 SCIs generally need full-time caregiver assistance to perform activities of daily living like eating and transferring.
Some complications that can result from full-body paralysis include:
Development of pressure sores. If you sit or lie in the same position for extended periods, the prolonged pressure can inflame the skin and cause breakdown.
Changes in body composition. Paralysis from the neck down results in muscle atrophy, which describes muscles shrinking from disuse. Lack of muscle mass can affect circulation, slow down the metabolism, and increase injury susceptibility.
Bladder and bowel dysfunction. The nerves at the tail of the spinal cord innervate the bowel and bladder muscles, so most spinal cord injuries will result in at least some bladder and bowel problems. As a result, C2 spinal cord injury patients often need to utilize catheterization and other bladder and bowel management techniques.
Now that you understand what functions can be affected after a C2 spinal cord injury, let's discuss treatment goals and methods.
C2 Spinal Cord Injury Treatment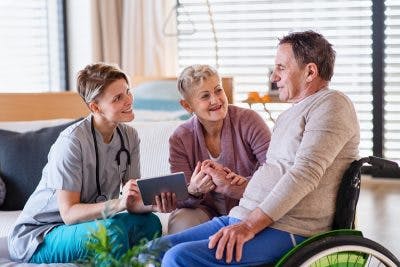 While damage to the spinal cord cannot be reversed, individuals with C2 spinal cord injuries can improve their quality of life by minimizing the progression of damage and maximizing their functional abilities.
Treatment for C2 SCI generally involves:
1. Restoring Respiratory Function
The most urgent priority when treating a C2 spinal cord injury is stabilizing respiratory function.
C2 SCIs have high mortality rates due to impaired diaphragm function and without immediate medical attention, individuals may be unable to breathe. With the help of a ventilator, respiratory functions may be restored.
2. Stabilizing the Spinal Cord
Depending on the severity of your C2 spinal cord injury, decompression surgery may be required to reduce pressure on the spinal cord.
Corticosteroids like Methylprednisolone may help reduce inflammation, which can contribute to minimizing the progression of secondary damage.
3. Participating in a Rehabilitation Program
Because a C2 spinal cord injury can cause paralysis throughout the body, rehabilitation focuses on identifying preserved functions and maximizing their potential.
Rehabilitation after a C2 SCI can consist of:
Many individuals with C2 spinal cord injuries learn to adapt and improve their mobility by participating in a rehabilitation program.
Need to see it to believe it? Check out this video of Matt's C2 SCI recovery progress:
As demonstrated in the video, the spinal cord injury recovery process is gradual. Practicing high-repetition, task-specific movements helps promote adaptive changes in the spinal cord.
Understanding C2 Spinal Cord Injury: Key Points
A C2 SCI can affect movement and sensation from the neck down. However, depending on the severity of your SCI, you may be able to move and feel areas innervated below your level of injury.
We hope this article helped you understand that there is hope for recovery after C2 spinal cord injury. Good luck!
Photos from top to bottom: iStock/yacobchuk/halfpoint