If you want to improve mobility and function after stroke, it's important to try a variety of stroke rehabilitation techniques.
Since every stroke is different, every patient will benefit from different forms of therapy based on their specific deficits.
Scan through these 12 stroke rehabilitation techniques below and experiment with the ones that most appeal to you.
Stroke Rehabilitation Techniques for Motor Recovery
Here's a rundown of our top 12 stroke rehabilitation techniques that can help maximize motor recovery after stroke.
1. Therapeutic Rehabilitation Exercise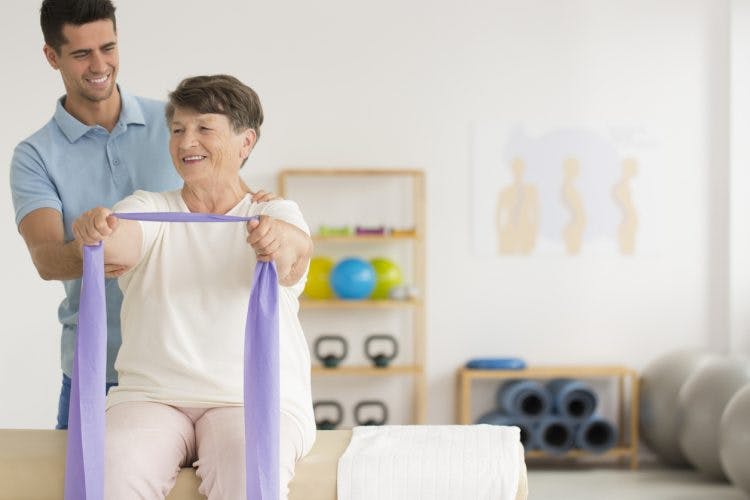 Massed practice of stroke rehabilitation exercises is the best way to improve movement, especially at home.
By completing high repetitions of physical therapy exercises, you can rewire the brain through neuroplasticity. This is how the brain heals itself after stroke and starts to regain functions.
Repetition is key to activating neuroplasticity. This means that if you want to improve arm movement, for example, then you need to practice lots of arm exercises on a consistent basis. A popular saying in physical therapy sums this up nicely: "use it to improve it."
2. Music Therapy
Music helps enrich the brain's environment, and engages multiple brain regions bilaterally. This stimulation makes it another excellent way to trigger neuroplasticity.
Music therapy is primarily used to treat aphasia. In fact, patients with severe speaking difficulties can usually sing without any problems. That is because singing engages a different part of the brain than speaking. Music therapy builds on this fact and uses it to retrain the person's ability to speak.
Besides language difficulties though, music therapy also enhances a person's cognitive and motor skills. This is one reason why music-based rehabilitation devices, like Flint Rehab's MusicGlove, are effective.
3. Mirror Therapy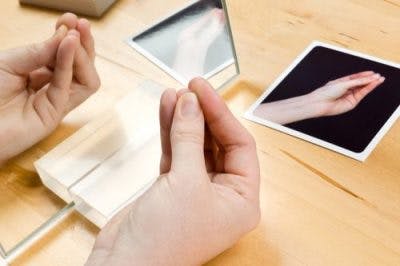 Mirror therapy for stroke patients can help improve hand mobility, making it another excellent stroke rehabilitation technique.
You can practice mirror therapy easily by placing a mirror over your affected hand. Then, start doing hand therapy exercises with your non-affected hand, while looking at it's reflection in the mirror. This activates mirror neurons in the premotor cortex, the part of the brain responsible for movement.
Essentially, mirror therapy tricks the brain into thinking it is activating the affected hand, which activates neuroplasticity and rebuilds neural connections to your hand.
This stroke rehabilitation technique is so powerful that it often plays a central role in the most inspiring hand paralysis recovery stories.
4. Constraint-Induced Movement Therapy
Constraint-Induced Movement Therapy (CIMT) is an aggressive stroke rehabilitation technique for patients with weak arms. It involves restricting your unaffected side while forcing the use of your affected side.
This method is particularly helpful for patients with severe mobility impairments who struggle with neglecting their affected arm. In fact, CIMT is a superior method for combating learned-nonuse, a condition that occurs when mobility continues to worsen due to neglect.
5. Magnetic Brain Stimulation
Magnetic brain stimulation is an exciting new stroke rehabilitation technique that can treat many symptoms. However, it seems to have the most effective results on movement disorders. For example, research shows that magnetic therapy helps stroke survivors improve their gait and walk independently again.
During magnetic brain stimulation, wires are placed on the scalp and magnetic stimulation is sent to the brain. The stimulation helps excite the damaged parts of the brain and stimulate neuroplasticity, which can boost recovery.
This stroke rehabilitation technique is rarely covered by insurance, though. However, there are many clinical trials available, which can make it more accessible.
6. Electrical Stimulation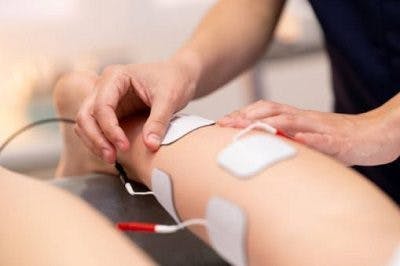 Electrical stimulation is another excellent stroke rehabilitation technique for treating spasticity and mobility impairments. It works by placing electrodes over the skin, which sends electrical impulses directly to the affected muscles. This once again stimulates the brain and activates neuroplasticity.
Best of all, combining electrical stimulation with physical and/or occupational therapy is more effective for stroke patients than mere exercise alone, according to research from the American Heart Association.
While some forms of electrical stimulation are passive (involving no participation on your behalf), e-stim for stroke patients should be active. This means you should try to engage your muscles yourself when you feel the electrical current activate. This offers a greater boost to neuroplasticity and can speed up your recovery.
When you first try electrical stimulation, make sure you do so under your therapist's supervision. They can show you the proper locations to place the electrodes, along with other safety tips.
7. Passive Range-of-Motion Exercise
If you cannot move your muscles at all, it is still possible to activate neuroplasticity through passive range-of-motion exercises. With passive exercises, a therapist or caregiver moves your affected muscles for you.
Although you aren't making the movement yourself, passive exercises still stimulate the parts of the brain involved in muscle movement. This reestablishes the neural connection to your muscles and increases function.
Passive range-of-motion exercises also keep your muscles and joints flexible and help to minimize the chance of contractures developing.
8. Mental Practice
Along with passive exercise, mentally visualizing yourself moving your paralyzed or weak muscles can be another treatment option.
Studies report increased blood flow, electromyographic activity, and resulting changes in the motor cortex in stroke patients after mental practice. In other words, major changes are happening in the brain when you visualize yourself moving. This is great news for stroke patients struggling with paralysis that can't get the other benefits of therapeutic rehab exercise.
For patients that do have some mobility, a joint approach may work best. Some studies have shown that combining mental practice with physical practice helps improve mobility more than just physical practice alone.
9. Task-Specific Gait Training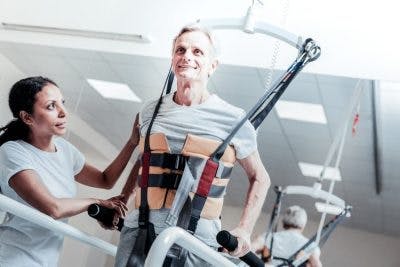 If you want to regain the ability to walk, your therapist will most likely have you try task-specific gait training.
Task specificity is an important aspect of engaging neuroplasticity. It means that if you want to improve an ability, you must practice that action directly.
When you do so, the brain forms new neural pathways in response. The more you practice, the stronger those pathways become. Therefore, to improve your walking ability after stroke, therapists will have you practice proper walking motions, also known as gait training.
Gait training begins with assisted forms of walking first, such as walking on a treadmill with a body harness. As your strength improves, you will work your way up to using a walker or cane, until maybe one day you can walk unsupported.
10. Sensory Reeducation
Sensory reeducation is a form of cognitive-behavioral therapy that helps patients improve their senses. This is particularly helpful for overcoming post-stroke numbness, tingling sensations, or difficulty feeling hot and cold.
The best types of activities to help you accomplish this are sensory stimulation activities, also known as sensory reeducation exercises. For the best results, you can also combine these exercises with electrical stimulation.
Best of all, sensory reeducation has been proven effective at activating neuroplasticity and helping people regain feeling.
11. Speech and Cognitive Therapy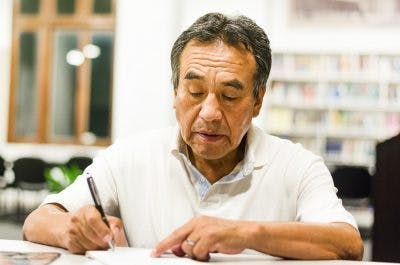 Another important stroke rehabilitation technique you should include, if applicable, is speech therapy. This treatment can help you improve language abilities, swallowing abilities, as well as cognition after stroke.
A speech therapist can walk you through the various speech therapy activities available, and show you exactly what you need to do to retrain your brain and regain language skills. In addition, speech therapists can help improve their patient's cognitive skills. Some cognitive abilities they can address include skills such as concentration, attention, and memory.
All of this makes speech therapy a critical part of stroke rehabilitation.
12. Home Therapy
Finally, to ensure the best stroke recovery possible, you must practice your rehab exercises regularly — ideally daily. If you struggle with memory problems, have your therapist write you a home exercise sheet to help you remember exactly how to do them.
There are also home therapy devices, such as FitMi, which walk you through exercises in a fun and engaging way. By practicing your therapy every day, you can continue to stimulate your brain's neuroplasticity, and reduce the overall time it will take you to recover.
Which Stroke Rehabilitation Techniques Will You Choose?
These 12 stroke rehabilitation techniques are all proven to boost recovery after stroke. Each technique addresses different types of stroke effects, so it's important to customize your treatment to address your needs. Talk with your therapists to help you find the best fit for you.
Featured Image: ©iStock/Daisy-Daisy